The first Absenteeism Barometer conducted in 2022, the result of analyses by Verlingue's actuaries and statisticians, made it possible to establish an unprecedented diagnosis by the scale and scope of the proposed indicators. This second edition extends and completes the first works. From year to year, absenteeism progresses and disrupts organizations. All businesses are affected, regardless of size and industry. This is one of the major challenges facing all leaders. 
This second barometer offers a wide range of indicators that allow a broad analysis of the situation of the panel studied.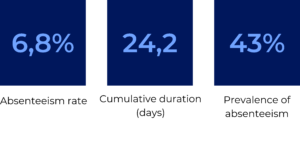 10.01.2023
Verlingue acquires the insurance broker Cabinet Depeyre, a specialist in complex corporate risks, and the underwriting agency Depeyre Solutions
After the acquisition of RT Global Insurance in Portugal at the end of 2022, the acquisition of Cabinet Depeyre and Depeyre Solutions in France consolidates Verlingue's external growth dynamic as part of its 2024 strategic plan.
17.12.2022
Testimony of Frédéric Chaplain in Les Echos
Loss of perishable goods due to power cuts is a concern for companies!
Find out what our expert Frédéric Chaplain, Risk Director of Verlingue, has to say in the article "Power cuts and insurance: companies will not always be covered" published by Les Echos.
companies will not always be covered" published by Les Echos.
15.12.2022
Verlingue Immobilier at the XVIIIth National Congress of UNIS
On 15 and 16 December, the Verlingue Immobilier teams will be welcoming real estate professionals to stand No. 13 at the Palais Beaumont in PAU for the 13th UNIS Congress.
UNIS is the leading organisation of real estate professionals representing all the professions in the sector, of which Verlingue is a partner.
This new edition on the theme "Générations Unis" is an opportunity to present our intensity claims offer, our digital tools and to promote our insurance expertise in the property sector.
09.12.2022
Discover the new Verlingue brand in video
We are very pleased to share with you our new visual identity.
09.12.2022
Verlingue bolsters its foothold in Europe with a new brand service promise and an acquisition in Portugal
Adelaïde Group subsidiary and corporate protection specialist Verlingue is overhauling its visual identity and embracing a brand service promise to buoy its European ambitions.
In addition, Verlingue is acquiring a new independent, family-owned Portuguese insurance broker, RT Global Insurance.
06.12.2022
Verlingue consolidates its European presence and its foothold in Portugal with the acquisition of RT Global Insurance
Verlingue, the Adelaïde Group's insurance brokerage subsidiary, has been operating in Portugal for the past two years following the acquisition of Luso Atlantica, and is consolidating its position on the Portuguese and European markets with the acquisition of Portuguese broker RT Global Insurance.
• Verlingue is reasserting its strong ambition on the Iberian Peninsula
• 6th international acquisition in 6 years
• Verlingue Portugal: over 100 talented employees
30.11.2022
#PAROLEDEXPERT by Verlingue: intensity claims
Guillaume Beauhaire, Head of Key Accounts Belfor, and Alexandre Cohen, Director of Verlingue Real Estate, give us an insight into the management of intensity claims, which have been on the increase in recent years.
Our experts will be present at the FNAIM National Congress on 5 and 6 December 2022 to discuss with you and present, among other things, the new "intensity claims" offer, the new features of our customer platform and all our other services…
Come and visit us on stand 74 at the Carrousel du Louvre in Paris.
16.11.2022
Review of the third edition of the Cercle Lab Master Club, of which Verlingue is a partner
Program, participants, objectives, ambitions, the MAGster Club du Cercle Lab retraces the highlights of this unique networking and prospective event in the insurance sector.
In particular, you will find the interview of Olivier Halluitte, Manager Transformation Verlingue and Adelaide Group, about his investment in the i3 invention programme of the Cercle LAB. I3 Invention is the first FabLab in the insurance industry which allows insurance companies to discover, together, the best of new technology and to create prototypes.
04.11.2022
Verlingue continues its partnership with the Cercle LAB
This first club meeting of the season was an opportunity to take stock of the natural disasters in France and around the world since the beginning of the year, and to try to measure their impact on their business. The meeting also provided an opportunity to discuss the role of reinsurance in the face of the increase in these climatic losses and the issue of accumulation for risk carriers.
26.10.2022
A look back at the University of Management 2022
Once a year, the Management University brings together all managers and executives to support them in their role and to help them reflect on various topics related to the six areas of the Verlingue 2024 strategic plan:
• Business and professionalism
• Customer experience
• Operational efficiency
• IT
• Talent and employee experience-M&A (Mergers & Acquisitions)
15.10.2022
#PAROLEDEXPERT by Verlingue: State of the cyber insurance market
In June 2022, AMRAE, the Association pour le Management des Risques et des Assurances de l'Entreprise, published the 2nd edition of its comprehensive study LUCY, "LUmière sur la CYberassurance", on the insurance coverage of cyber risk in France, to which Verlingue contributed along with seven other brokers specialising in corporate risk.
Philippe Cotelle, Président de la Commission Cyber AMRAE et Risk Manager de Airbus Defence and Space, nous partagent les enseignements et faits marquants de cette nouvelle étude aux côtés de Frédéric Chaplain, Directeur des Risques de l'Entreprise Verlingue.
22.09.2022
#PAROLEDEXPERT by Verlingue: the absenteeism rate
Discover the testimonies of Laurence Abiven, Actuarial and Data Director and Sophie Tarron, Actuarial and Data Manager in our new #PAROLEDEXPERT on the findings of the 1st Verlingue Absenteeism Barometer published in June 2022.
01.09.2022
#PAROLEDEXPERT by Verlingue: The Victims' Guarantee Fund
The Victims' Guarantee Fund compensates victims of acts of terrorism, common law offences and road users who are victims of traffic accidents caused by uninsured or unidentified drivers. This unique body is composed of two structures: the FGAO (Fonds de Garantie des Assurances Obligatoires) and the FGTI (Fonds de Garantie des victimes d'actes de Terrorisme et d'Infractions de droit commun).
Watch the full testimony of Virginie Massé, Director of Operations of the Victims' Guarantee Fund.