Pension plans
We make sure everything goes smoothly with your company pension plans
A solid pension plan guarantees your standard of living in old age. The increasing life expectancy, statutory regulations and falling returns are putting pension solutions under a lot of strain.
We assist companies reviewing its pension fund benefits regarding market alternatives, opportunities, risks and consequences.
We support you
Our Pension team
Salvatore Blundo, Pension team leader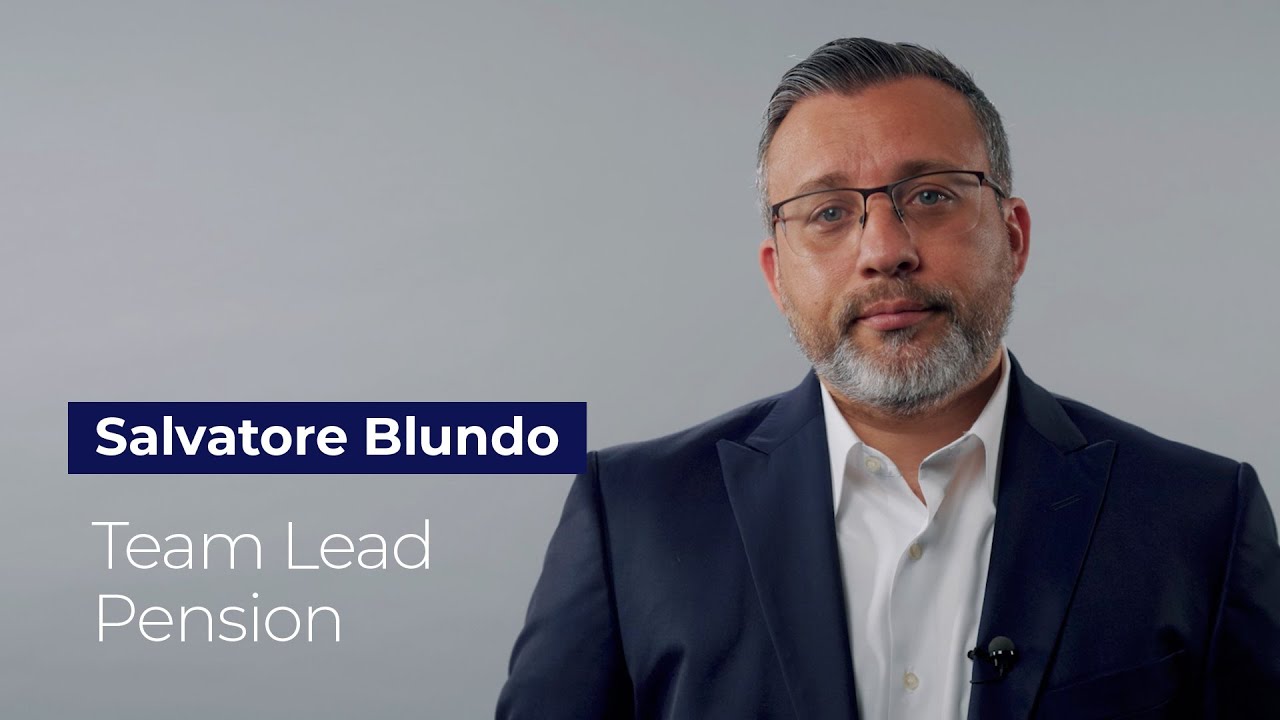 A good pension plan secures the standard of living for your employees in old age. At Verlingue, we help you to review pension benefits with respect to market opportunities, general opportunities, risks and consequences.
Salvatore Blundo, Pension Team Leader, explains how Verlingue helps companies optimise their pension solutions
Our dedicated expert team has a broad and longstanding knowledge of the pension fund market. Thanks to this, we are able to implement even complex solutions and provide our clients a holistic and well-founded analysis to further optimize their pension plans.
Is your pension plan up-to-date?
01
Does your organisational form fit?
The choice of organisational form has an impact on investment risk, interest rates and future retirement benefits. Together with you, we openly exchange ideas and show you various options. For example, a full insurance solution does not always make sense; it may be worthwhile to take more risk. A supplementary executive pension plan may also be an option.
An analysis by our Verlingue experts gives you the certainty regarding the right choice for your organisational form.
02
Do you have the right provider?
Your pension provider must fit your company and your needs. This might be a big advantage in terms of costs and pension benefits.
We know the pension market and help you to find the best provider. You also benefit from our market position and our knowledge for the financial and structural risk capacity of a pension fund.
03
3. Is your pension plan up-to-date?
In recent years, a number of new options have emerged for occupational pension benefits. In a constructive exchange, we will show you the advantages and disadvantages. Your Verlingue team will keep your pension plan up to date so that all insured persons are optimally covered.
04
Are your pension benefits right?
Good pension fund benefits are an image factor, increase your attractiveness as an employer and help with staff recruitment.
We know the interrelationships and help you to define the appropriate pension benefits.
05
Are the social security insurances coordinated?
The interaction of the different social security insurances is an important part in the overall insurance concept.
We check the coordination between the 1st pillar, accident insurance, daily sickness benefits insurance and occupational benefits insurance in order to avoid gaps in coverage and double insurance.
Your added value
Specialists with many years of market experience and a high level of expertise
Personal advice to and lightening the workload of the HR department – support and advice with regard to cooperating with the authorities
Identification of solutions in the event of new market conditions and changes to pension fund regulations
Investigation of the optimization potential in the current market conditions and pension models
Regular reviews and comparisons of death, disability and old-age benefits
Analysis, assessment and review of the interest policy and the financial risk capacity of the pension fund